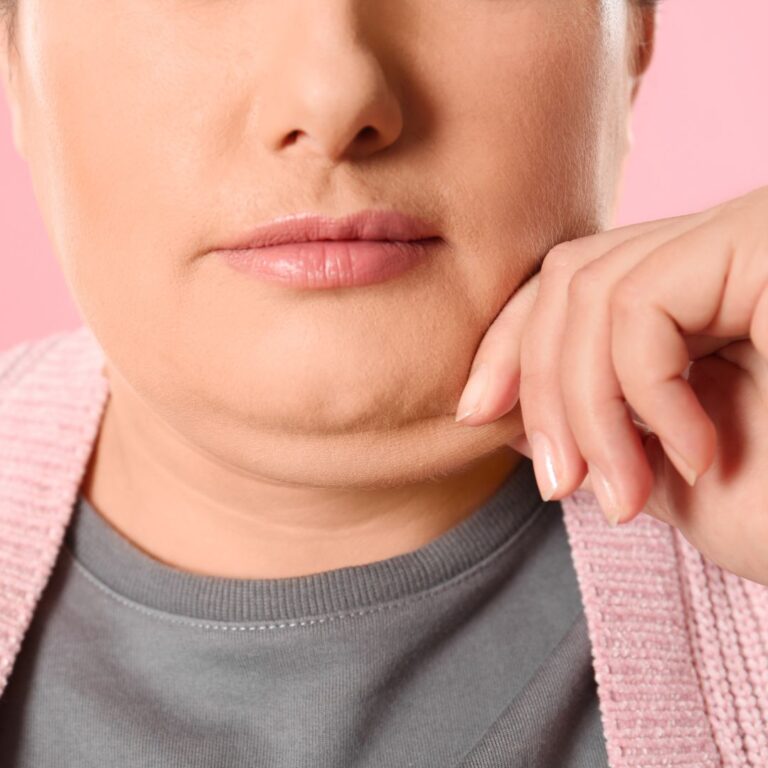 In clinical studies, 88% of patients received more than one KYBELLA® treatment, with 59% of patients receiving six KYBELLA® treatments to remove their double chin. 
A chiseled face with a slim and slender neck makes you look great and leaves a good impression on others. A double chin getting in between your head and neck can make you look fat and even older than your age. If your double chin bothers you a lot, you don't need to worry anymore as you can remove it in our clinic in Bengaluru. 
Visit CNF soon so our expert can check the condition of your double chin and suggest the right treatment to get rid of it. 
What is a Double Chin?
A double chin is an excess fatty flesh formed under a person's chin or jawline. It is also called neck wattle if the extra fat is hanging and loose. You can develop a double chin at any age, and anyone can notice your face's profile view. A double chin isn't the outcome of weight gain and may have other causes. You may have it even at your healthy weight or during your weight loss journey. 
Causes of Double Chin
Here are the key causes of double chin:
Genetic Predisposition
If any of your family members have a double chin, then you are likely to develop one. No specific genes cause a double chin. However, various traits may make you more prone to getting it. Besides bone framework being a generic characteristic, you are likely to gain weight, have less elastic/thinner skin, or tend to accumulate fat under your chin. 
Aging Skin
With aging, your skin produces less collagen because of which it loses elasticity and starts sagging. When the skin beneath your jaw sags, it creates the effect of containing excess fat in the same portion. Plus, you usually lose muscular strength which aggravates the double chin effect. 
Weight Gain
Excess fat is one of the most common causes of double chin. With weight gain, fat gets distributed across your body, which includes body parts, such as the face and below the chin. Weight gain tends to add fat to your face irrespective of your body type. You can wear loose clothes to hide the fat on other body parts but not a double chin. Thus, it makes you conscious about your appearance. 
Poor Posture
Craning your neck is one of the worst body postures. Besides causing neck pain, this posture weakens the platysma muscles that connect your neck and the chin. The weak muscles decrease the elasticity surrounding the jowls and their sagging effects. 
Face Shape
You may be getting a double chin only because of your face shape. If you have poor jawlines and recessive chins, you are likely to get a double chin as your skin stretches over a small portion. It is loosely drawn over your face and takes a comparative reduction in skin elasticity or little fat increase, which develops a double chin. Due to this reason, very slim people can also get a double chin. 
Types of Double Chin Reduction Treatments
Here are the different types of non-surgical double chin reduction treatments you can do at CNF:
1. Fat Disolving Injection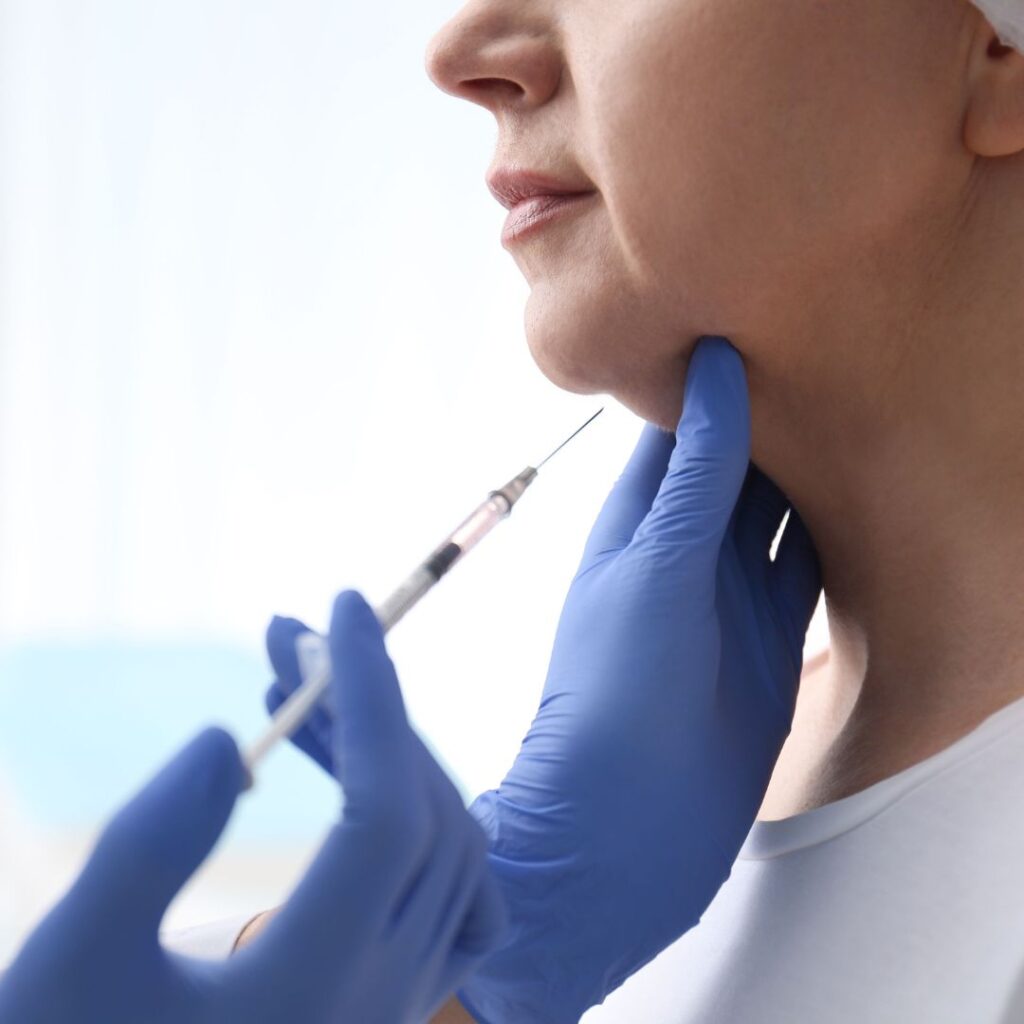 Kybella, also called "deoxycholic acid", is a natural component, which dissolves fat inside your body. Kybella injection is one of the best treatments to remove a double chin and give you the desired face shape. When injected, Kybella targets and liquefies fat cell membranes so your body absorbs them. It is a great alternative to surgical methods of removing a double chin. Kybella injection takes less time with minimal side effects. It usually takes many weeks for the results to be visible.
2. CoolSculpting
CoolSculpting is a fat removal method that works on body parts with frozen cells. It blocks oxygen and blood from passing through your cells and kills them. CoolSculpting is not an instant solution to remove double chin as fat cells take time to freeze and die. Double chin is only a small body part and thus, you may start seeing results for many weeks. All the targeted fat cells don't die sometimes as your body is highly resilient.
If certain cells won't completely get exposed to the freezing mostly because of other fat cells getting in the way, such fat cells can recover. After the first session, you can decide if you require more sessions to remove your double chin and give the desired contour to your neck and beneath the face.
3. HIFU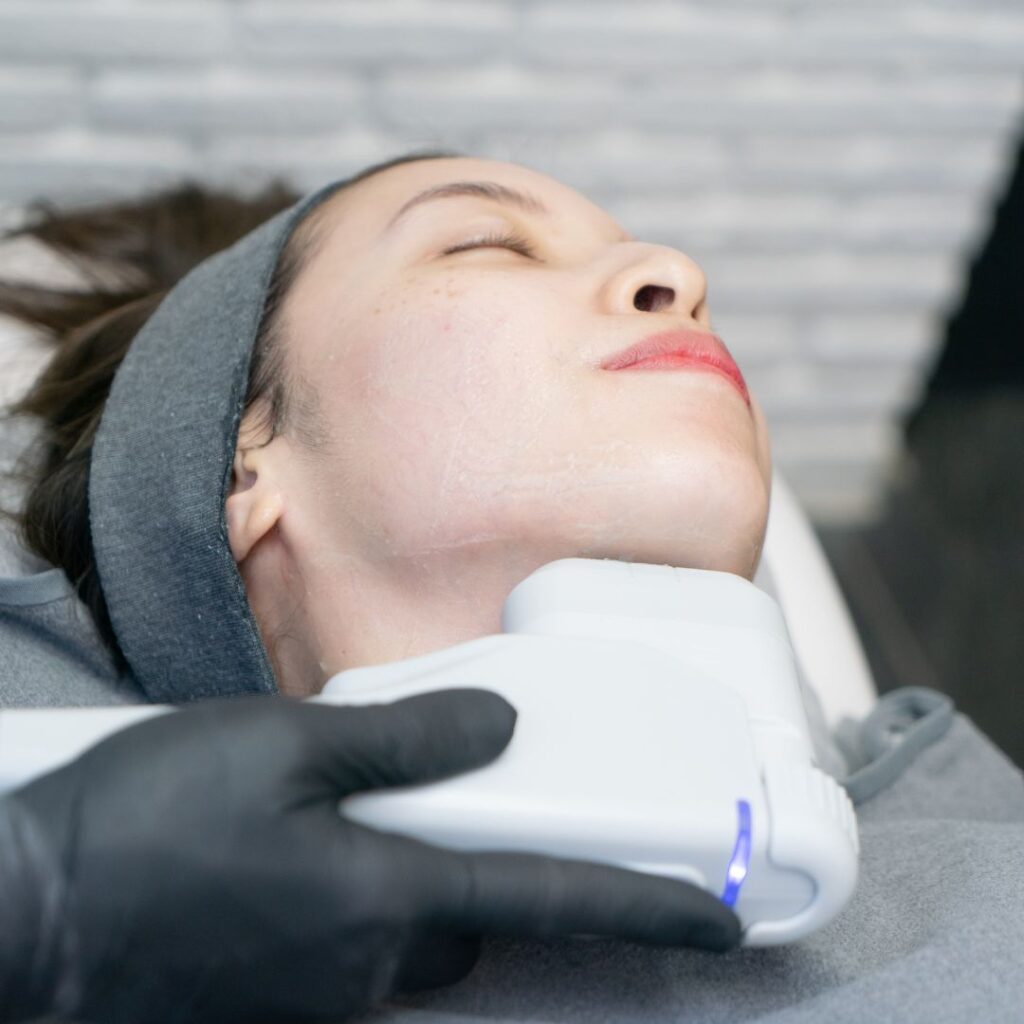 HIFU applies ultrasound to distinguish and remove extra fat cells and skin in your double chin. With a HIFU device, you can lift and rejuvenate the targeted area. We radiate ultrasound waves at a depth of approximately 4.5 mm under your face skin to heat the area, eliminate fat cells, and boost the production of collagen in your skin. During the examination, our doctor decides the exact measurements, wave intensity, and required number of HIFU sessions to remove your double chin.
The amount and intensity of ultrasound waves depend on the thickness/severity of the subcutaneous fat. Every session tends to last for 30 to 60 minutes and doesn't require anesthesia as HIFU is a 100% painless treatment.
4. Laser Therapy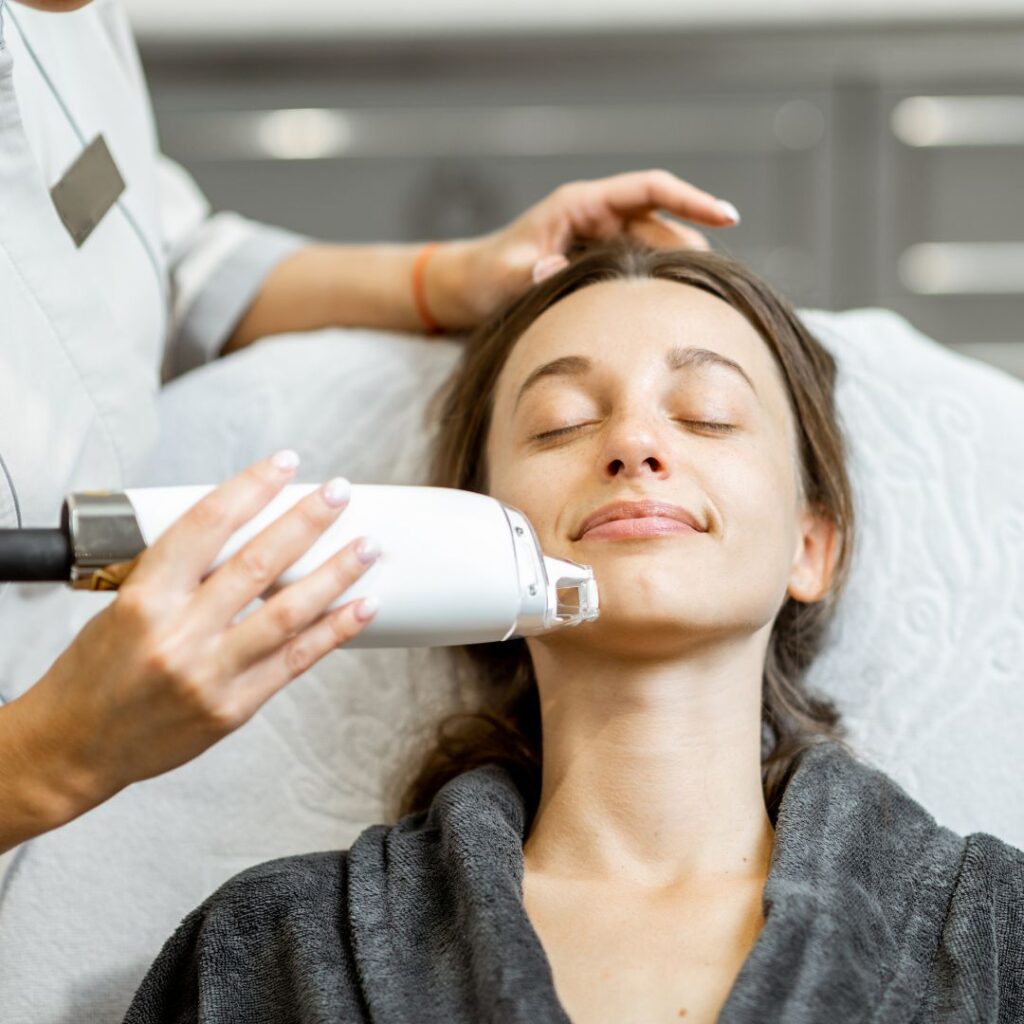 The non-invasive laser therapy targets fat cells in your double chin and gives you a slimmer face. A laser increases the temperature of fat cells in your skin. Even though the laser heats the accumulated chin fat, the surface stays cool. The laser destroys and eliminates fat cells in 6 weeks. Laser therapy sessions last for approximately 25 minutes, which makes your face look more contoured from the front.
If you are looking for a solution to reduce mild to moderate chin fat without any side effects, laser therapy can be the right choice. You may have mild bruising temporarily. As the treatment has no downtime, you can resume your activities immediately.
5. Fillers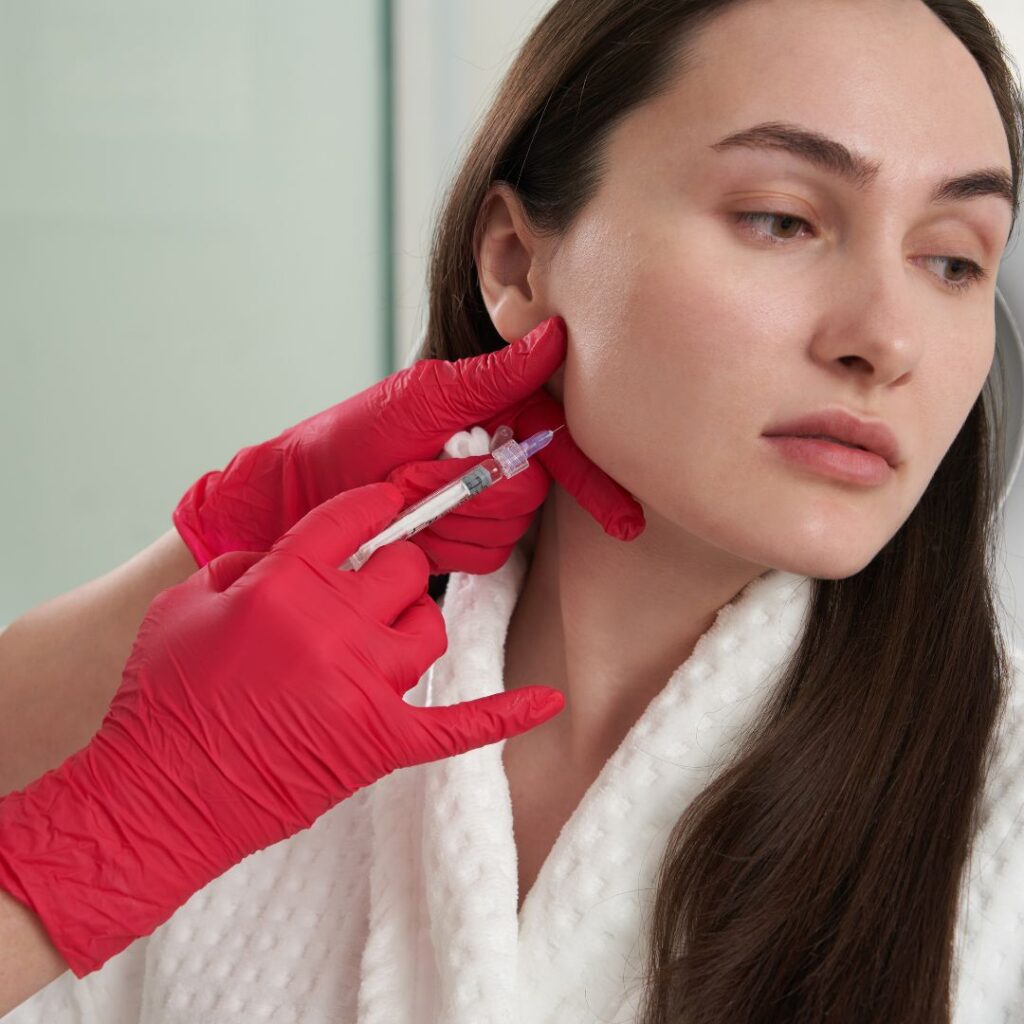 Fillers are a non-surgical double chin removal treatment, which reacquires proportion and symmetry to your face. This treatment adds symmetry and definition to your face's lower third portion. Fillers fix saggy necks, jowls, and jawbone shrinkage. Once the fillers are injected under your chin, it expands to eliminate saggy folds. Filler injection in your chin's frontal part can reduce the appearance of frown lines, which go downwards from your lips.
The strategically positioned chin fillers can make your jawline look more contoured and prominent. It is a quick, and minimally invasive treatment involving a series of injections. 2 sessions with at least 6 to 8-week intervals are required to define your chin, improve Hawkins, and give you a more sculpted neck.
6. Thread Lift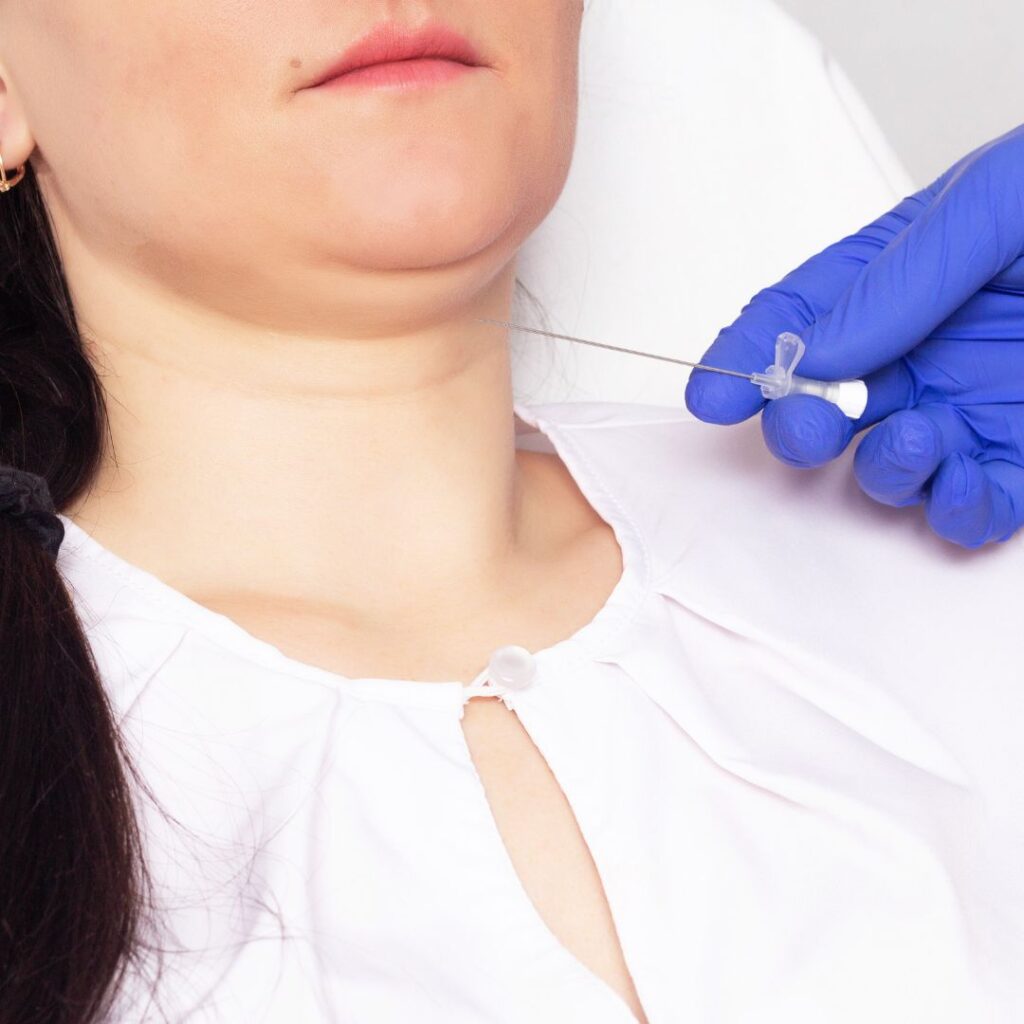 Thread lift lifts the skin in your double chin portion that is slack. The lifting makes the portion appear smaller and helps in sharpening and redefining your jawline. This non-surgical treatment can lift and regenerate the trusted tissues in both males and females. PDO threads are strategically placed on your areas of concern and lightly tightened to lift your sagging skin. As the treated skin portion is to be numbed, you can relax during the treatment. This treatment is worth the price if you want a redefined and sharper jawline, which looks natural. You may experience no little pain after the treatment. While others may experience moderate for approximately 2 weeks. You can fully recover from thread lift in 2 weeks.
How Can CNF Customize Your Treatment and Help With Lifestyle Changes?
At CNF in Bengaluru, our doctor properly examines your chin and neck portion and considers various factors to suggest the right double chin removal treatment. We check your medical records, and physically examine your neck and chin portions to determine the level of skin laxity, submental fat, and condition of muscles, and then suggest the right treatment accordingly. After the treatment, making certain lifestyle changes will increase the longevity of results, promote healing, and maintain enhancements.
Here are the lifestyle changes you can make after doing the dermal filler treatment:
Follow a healthy and balanced diet, including vegetables, fruits, healthy fats, lean proteins, and whole grains.
Maintain a stable weight to prevent the reaccumulation of fat under your chin.
Practice healthy postures to prevent straining your chin and neck portions.
Once you follow these lifestyle tips, you can recover smoothly after your double chin removal treatment and enjoy the long-term benefits.
Cost of Double Chin Removal Treatment
The overall cost of double chin removal treatment depends on factors, such as the type of techniques implemented, the amount of fat to be removed, and post-surgery care. At CNF in Bengaluru, the treatment starts at Rs.14000 per session.
Sign Up for a Free Consultation
Do you want to get rid of your double chin? You can do that with our treatment. But before opting for our treatment, sign up for a free consultation at our clinic. Our doctor will check the amount of fat deposited under your chin and neck to suggest the right treatment for giving the desired results.
"Clinic Next Face, Bangalore has the best glutathione injection treatment which was a game-changer for my skin. Dr. Praharsh and the team made it comfortable and effective. I'm delighted with the radiant skin I now have. Highly recommended!"
"My experience with glutathione injections at Clinic Next Face was fantastic. The procedure was painless, and Dr. Praharsh's expertise shone through. I now have a brighter complexion and couldn't be happier!"
"Clinic Next Face in Bangalore has worked wonders with their glutathione injections. The staff and doctors are caring. Dr. Johla's treatment was remarkable. Say hello to healthier, glowing skin!"
"For glutathione injection treatment, Clinic Next Face is my top choice. Dr. Praharsh and the team provide impeccable care. The treatment has given me the confidence to show off my radiant skin. Highly recommended!"

Experienced in-house team of certified cosmetic doctors and a huge network of dermatologists, surgeons, nutritionists, PMU Artists, cosmetologists, and other medical professionals.

Free Hair & Skin Assessment by the experts in the industry.

Advanced FDA approved equipments along with well trained doctors.

Served 1,00,000 happy customers and counting

India's First Smart-Ageing Clinic which takes holistic approach to make reverse all signs of physical ageing.

We commit to provide customized treatments and setting right expectations before treatments.