Most-Advanced Treatment to Get Rid of Stretch Marks camouflage .
Nowadays, most females are happy in their skin and can show their stretch marks confidently. However, if you don't feel confident enough when your stretch marks show wearing your favorite outfits, you can get rid of them with our advanced camouflage treatment. At CNF in Bengaluru, our expert will check your stretch mark condition and perform the treatment effectively to remove it.
The Stretch Mark Story
A stretch mark is a kind of scar, which occurs when your skin stretches or contracts in a short time. The quick expansion and contraction decrease the production of elastin and collagen, which strengthen your skin. Stretch marks may form when your skin heals. Everyone get such narrow bands on their skin. Hormonal imbalance is one of the key causes of stretch marks. Your skin may also develop stretch marks because of genetics. If you get stretch marks, you tend to experience pregnancy, weight gain/loss, growth spurts happening in puberty, and weight training during quick muscle building. 
Stretch marks, when they appear initially,  usually look red, reddish-brown, dark brown, pink, or purple, depending on your skin tone. In the early stage, they look a little bit raised and can get itchy. Their color fades and the thin bands sink under your skin. You can feel a little depression when running your finger over a developed stretch mark. Even though stretch marks are permanent like scars, our camouflage treatment can reduce their appearance and give you relief from the itch. If you are pregnant or breastfeeding, consult our doctor so we can check the condition of your stretch marks to perform the treatment effectively.
Basics of Stretch Marks Camouflage
Stretch marks camouflage is a type of micropigmentation. We choose and mix pigments carefully matching the surrounding skin. Our doctor inserts the pigment mixture with a needling device to fix the color, which reduces the appearance of stretch marks. Camouflage does not always need color pigmentation. Certain techniques use special microneedling to boost collagen production in the blemished areas. Stretch marks camouflage treatment helps in smoothing out the abraded skin surface and reduces their appearance without adding colored pigment to your skin. This procedure does & remove stretch marks but camouflage them to your skin. 
The Stretch Marks Camouflage Process.
Here are the steps involved in the stretch marks camouflage proces
Individual  Consultation and Evaluation
The stretch mark tattoo camouflage process starts with a personalized consultation and evaluation with our expert. 
During the consultation, you discuss your concerns and goals with our expert, who will recommend the most effective treatment depending on your level of stretch marks, skin type, tone, and texture.
Selecting the Right Pigmentation Blend.
We will choose skin tone pigments and blend them with a mixing solution, which prevents color change. We insert the pigmentation blend into your skin with a needle device, which is almost like the device used for applying semi-permanent makeup. 
Our expert performs a color match test to check how the pigment gets into your skin, which may take approximately 2 months to heal completely.
Micropigmentation Procedure.
At our clinic in Bengaluru, we start with the micro pigmentation procedure. After mixing the selected pigments, we will start the session. You may require 2 to 3 sessions at an interval of 2 months to get the desired results.
Aftercare and Healing.
Your skin may look red, swollen, and sore a little after stretch marks camouflage treatment, which usually subsides in 1 to 2 weeks. When your skin heals, it may look darker for some time until it heals completely and shows the final results. 
Our doctor shares proper aftercare instructions that help in healing the treated area quickly. If required, you can schedule touch- up sessions anytime.

Conditions treated
Here are the key advantages of doing stretch marks camouflage treatment at our clinic:
Natural-Looking Results
Stretch marks camouflage treatment is perfect for religious people or those who don't like having tattoos. This technique does & creates a traditional tattoo using permanent ink. It uses specially formulated pigments and collagen production to give you a natural and even skin tone.
Long-Lasting Effects.
As stretch marks camouflage treatment is a penetrative treatment, it may stay for over 5 years if you follow the right aftercare instructions. The color of specially formulated pigments used in this treatment does & fade or change over time. You may not require a touch-up even after 5 to 6 years. As pigment color lightens with time, touch-up after a few years can maintain the desired look.
A Non-Invasive Option
Stretch mark camouflage treatment is a great non-invasive alternative to surgeries, which cause pain and other treatment options. It is a cost-effective treatment yet gives you the desired results that stay for long.
Boost Your Self Confidence
Stretch marks somehow become an aesthetic concern, which makes you less confident With the camouflage treatment, you can conceal the unwanted stretch marks and get back your lost confidence. As you feel more self-confident with the enhanced appearance of you skin, your lifestyle improves.
What Makes CNF the Best at Stretch Mark Camouflage?
If you are looking for the best clinic for stretch mark camouflage treatment, visit CNF in Bengaluru. Our experts understand that human beings have different types of skin, depending on their diet, lifestyle, age, health condition, overtones, and level of sun exposure.
We have the best ink pigmentation experts who consider your skin type, diet, lifestyle, and other relevant factors, and then perform the stretch mark camouflage treatment correctly.
As we use the most advanced USFDA-approved technologies to perform any skin treatment, you can always expect the desired results. At our clinic in Bengaluru, you can cure all kinds of skin imperfections and aesthetic concerns after consulting our experts. So, visit our clinic anytime to look and feel beautiful again.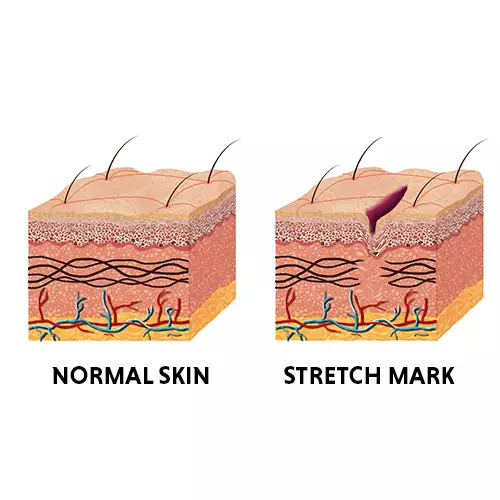 Sign Up for a Free Consultation
Do you want to conceal the unwanted stretch marks on your body? Sign up for a free consultation at our clinic for our stretch marks camouflage treatment. We will check the condition of your stretch marks and then perform the treatment effectively to deliver the desired results.
"Clinic Next Face made my stretch marks removal journey a breeze. Dr. Praharsh and the team truly understand concerns and offer top-notch solutions. I'm thrilled with the results, and the staff's kindness made me feel at home!"
"I chose Clinic Next Face for my stretch marks removal, and it was painless and expertly done. Doctor's expectations were quite clear on reduction and not removal, and the continuous support was a bonus. Highly recommend them for similar treatments."
"After my wonderful skin experience at CNF, I trusted their team for stretch marks removal as well. The caring staff and Dr. Praharsh's expertise exceeded my expectations. My skin feels fantastic!"

Experienced in-house team of certified cosmetic doctors and a huge network of dermatologists, surgeons, nutritionists, PMU Artists, cosmetologists, and other medical professionals.

Free Hair & Skin Assessment by the experts in the industry.

Advanced FDA approved equipments along with well trained doctors.

Served 1,00,000 happy customers and counting

India's First Smart-Ageing Clinic which takes holistic approach to make reverse all signs of physical ageing.

We commit to provide customized treatments and setting right expectations before treatments.
Frequently Asked Questions on Stretch Marks Treatment