Safe & Effective Wart Removal Treatment
FDA-Approved Procedures to Remove All Kinds of Warts
Are you struggling with unwanted warts on your skin? Don't worry, we've got you covered! Our team of leading dermatologists at Clinic Next Face specialize in safe and effective wart removal treatments using FDA-approved technology.
Warts may be small, but they can be an aesthetic concern or cause pain or bleeding. If you're looking for a solution, look no further! Our team of experts will work with you to determine the best wart removal procedure for your specific needs, and use the latest technology to get rid of them once and for all.
What Are Warts?
Warts are small, benign (non-cancerous) skin growths caused by a viral infection with the human papillomavirus (HPV). They typically appear as small, hard, raised bumps on the skin and can be found on various parts of the body such as the hands, feet, and face. They are usually skin-colored, but can also be brown or black. Warts can be asymptomatic, but they may occasionally cause pain or bleeding. Some types of warts can be spread by direct contact, or by contact with surfaces on which the virus has been left.
What Causes Warts?
Warts are caused by an infection with certain strains of the human papillomavirus (HPV). HPV is a very common virus that can infect the skin and mucous membranes. The virus enters the body through cuts, scratches, or other breaks in the skin, and can cause the skin cells to grow rapidly and form a wart.
Warts can be spread through direct contact with a wart on another person's skin, or by touching a surface that has the virus on it and then touching your own skin. They are also more common in people with weakened immune systems, such as those who have HIV or are taking immunosuppressive medications.
Certain types of HPV can also be spread through sexual contact, which can cause genital warts.

Conditions treated
What Are The Different Type Of Warts?
There are several types of warts, including:
Common warts: These are the most common type of wart and usually appear on the fingers, hands, and elbows. They have a rough, irregular surface and are often gray or brown.

Plantar warts: These are warts that occur on the soles of the feet. They can be painful and are often flat with a rough surface.

Filiform warts: These are warts that occur on the face, typically around the eyes, nose, or mouth. They are thin and have a finger-like shape.

Mosaic warts: These are clusters of small, closely grouped warts that typically occur on the soles of the feet.

Flat warts: These are small, smooth, and flat warts that usually occur on the face, legs, or hands.

Periungual warts: These are warts that occur around or under the nails. They can be painful and can make it difficult to trim the nails.

Genital warts: These are warts that occur on the genitals or around the anus. They can be spread through sexual contact.
It's worth noting that not all warts are the same and the treatment may vary depending on the type of warts.
Why Choose CNF For Wart Removal Treatment?
Clinic Next Face should be your top choice for safe wart removal because of the following reasons:
CNF has the most experienced dermatologists and cosmetic injectors.
Our use of top-notch USFDA-approved technology ensures you enjoy the best results of the science of transformation.
We respect your need for privacy and strive to make you comfortable by ensuring you have a one-to-one interaction with our doctors and subsequently allot private service rooms with dedicated therapists.
We try to ensure you enjoy a pain-free experience and take necessary precautions before starting the procedure in a hygienic environment, following all safety guidelines at par with global service standards.
How To Get Started?
Getting the best wart removal treatment cannot get easier than this! Call Us on +91-9111159191 or share your contact details with us by filling up the form right below. Our customer care team will get in touch with you on priority to schedule an appointment with our best dermatologists at a time, date and location of your choice!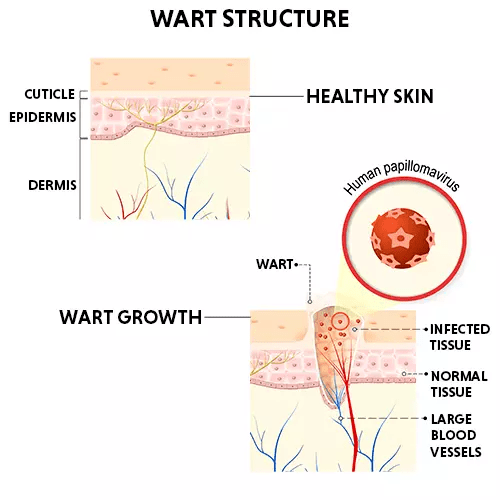 "I visited Clinic Next Face for warts removal, and the experience was superb! Dr. Praharsh and the team were attentive, making the procedure painless. The results are fantastic, and I highly recommend their warts removal treatment."
"Clinic Next Face is my top choice for warts removal. The procedure was expertly done, and the continuous support was a plus. Doctor''s experience shows. Highly recommended!"

Experienced in-house team of certified cosmetic doctors and a huge network of dermatologists, surgeons, nutritionists, PMU Artists, cosmetologists, and other medical professionals.

Free Hair & Skin Assessment by the experts in the industry.

Advanced FDA approved equipments along with well trained doctors.

Served 1,00,000 happy customers and counting

India's First Smart-Ageing Clinic which takes holistic approach to make reverse all signs of physical ageing.

We commit to provide customized treatments and setting right expectations before treatments.
Frequently Asked Questions On Warts Removal Treatment