Safe & Effective Mole Removal Treatment
Professional Approach to Get Rid of Unwanted Moles Permanently
Are you self-conscious about a mole on your skin? You're not alone! Many people have moles that they would like to remove for aesthetic reasons. But don't worry, our team of leading dermatologists at Clinic Next Face can help. We offer safe and painless mole removal treatment that eliminates the risk of infections and injuries.
Moles are skin growths that can appear as small to large, brown to black spots anywhere on the body. They are typically benign, but if they are prominent in size or location, they can be a significant aesthetic concern. With our team of experts by your side, you can achieve the smooth, clear skin you desire. So why wait? Let us help you feel confident in your own skin.

Conditions treated
How Do Moles Form?
Moles form when cells in the skin, called melanocytes, grow in clusters. These clusters can be benign (non-cancerous) or malignant (cancerous). Melanocytes are responsible for producing the pigment melanin, which gives color to the skin, hair, and eyes. An excess of melanin can lead to the formation of a mole. Moles can also be caused by genetics, sun exposure, or hormonal changes.
You should see a dermatologist if a mole becomes-
Painful
Itchy
Irregular
Increases in size
What Are The Mole Removal Treatments Available At CNF?
Your dermatologist at CNF may customise your mole removal treatment based on their size, type and location and choose from the following modalities:
Radiofrequency Or Electrocautery Removal: Experienced dermatologists at CNF use advanced radiofrequency technology to safely remove small, raised and superficial moles. During the electrocautery procedure, a qualified medical expert will use a sharp probe to pass an electric current and shed off the mole without damaging the surrounding tissues. It is a precise procedure performed in a sterile environment to prevent infections. It does not involve any blood loss, but the recovery period may last up to two weeks.
Punch Excision: Our medical team may suggest this time-tested procedure to remove large moles and minimise the chance of recurrence. While performing this advanced mole removal treatment, dermatologists administer local anaesthesia using injections, and then, with a sharp round knife known as a "punch", they remove the whole lesion and facilitate the wound healing with a stitch if required. However, following post-treatment instructions is a must for a speedy recovery.
Q-Switched Nd:YAG Laser: Leading dermatologists use this state-of-the-art USFDA-approved laser technology to target flat pigmented moles in the deeper layers. The precise laser beam breaks down the pigment deposit under the skin, and the body's natural immune mechanism clears it away gradually. The painless procedure involves zero downtime as the upper layers of skin remain unharmed.
Some of us require a combination of treatments if our mole is too deep or large.
Why Opt For Mole Removal Treatment at CNF?
Here are the top reasons why CNF is the best clinic for mole removal treatment:
Specialists in providing customised treatments for all clients based on skin type, mole colour, size and target area
A growing team of over advanced dermatologists in-house with unmatched professional expertise in advanced mole removal treatments
Pioneer in introducing scientifically-proven non-surgical treatments based on cutting-edge USFDA-approved technology for unmatched safety and efficacy
Trained and experienced therapists for world-class service quality and care
How To Get Started?
If you are looking for safe and scientifically-proven mole removal treatment, visit your nearest Clinic Next Face clinic. You can fill up the form below or call us on +91-9111159191 to schedule a consultation with our top dermatologists and seek customised solutions for mole removal at the earliest.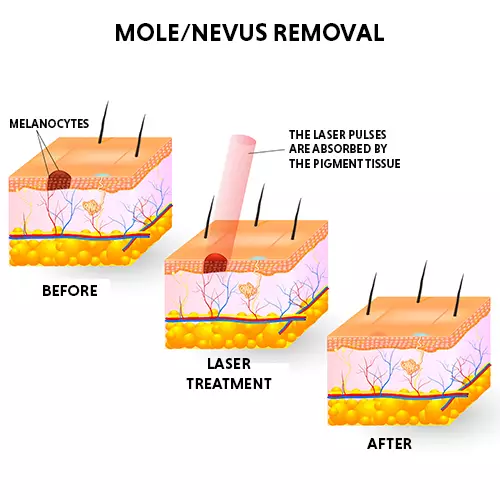 "I recently had a mole removed at Clinic Next Face, and I'm thrilled with the results! The procedure was painless, and the staff was incredibly caring and professional. Highly recommend their mole removal treatment."
"Clinic Next Face is the place to go for mole removal. Dr. Praharsh and the team made the process easy and comfortable. I'm very satisfied with the outcome. Great clinic!"

Experienced in-house team of certified cosmetic doctors and a huge network of dermatologists, surgeons, nutritionists, PMU Artists, cosmetologists, and other medical professionals.

Free Hair & Skin Assessment by the experts in the industry.

Advanced FDA approved equipments along with well trained doctors.

Served 1,00,000 happy customers and counting

India's First Smart-Ageing Clinic which takes holistic approach to make reverse all signs of physical ageing.

We commit to provide customized treatments and setting right expectations before treatments.
Frequently Asked Questions On Moles Treatment