Clinic Next Face offers skin rejuvenation treatments to improve the texture and overall skin quality.
Dr. Praharsh Devraj is a renowned dermatologist at Clinic Next Face with expertise in skin rejuvenation treatments.
Treatments offered include PRF for the face, Hydra Facial, Chemical Peels, HIFU, Q-Switch Laser, and Medi Facial.
These treatments address skin concerns such as wrinkles, acne, hyperpigmentation, and uneven skin tone.
Consultations with expert dermatologists at Clinic Next Face can be scheduled for free face-to-face or online sessions.
Everyone dreams of having flawless, glowing, and youthful skin. Do you want your skin to blow like never before? Visit CNF for a skin rejuvenation treatment as it includes all steps that improve the texture and overall quality of your skin. Our treatment can heal almost all scars and imperfections by boosting collagen production in your skin. 
All men and women can opt for our rejuvenation solutions depending on their skin type. 
What is the Skin Rejuvenation Treatment?
Skin rejuvenation treatment is a process that involves using various types of invasive and non-invasive to enhance the overall appearance of your skin. This treatment removes fine lines, wrinkles, bumps, acne vulgaris, pigmentation, bumps, and other types of scars. We apply light, heat, or non-toxic chemicals to rejuvenate or resurface your skin. Laser skin rejuvenation is one of the most effective facial enhancement procedures. It is painless yet delivers long-term results. 
At CNF, you can consult Dr. Praharsh Devraj, who is a veteran dermatologist with years of experience in delivering skincare. He is well known for his expertise in skin-rejuvenation treatments. Numerous specialists and authorities have acknowledged his studies. 
Dr. Praharsh Devraj is the best skin doctor in South India who has satisfied thousands of patients through skincare. Our team of dermatologists works with him and follows his instructions to deliver the best skin rejuvenation treatment to patients. 
We offer the following treatments: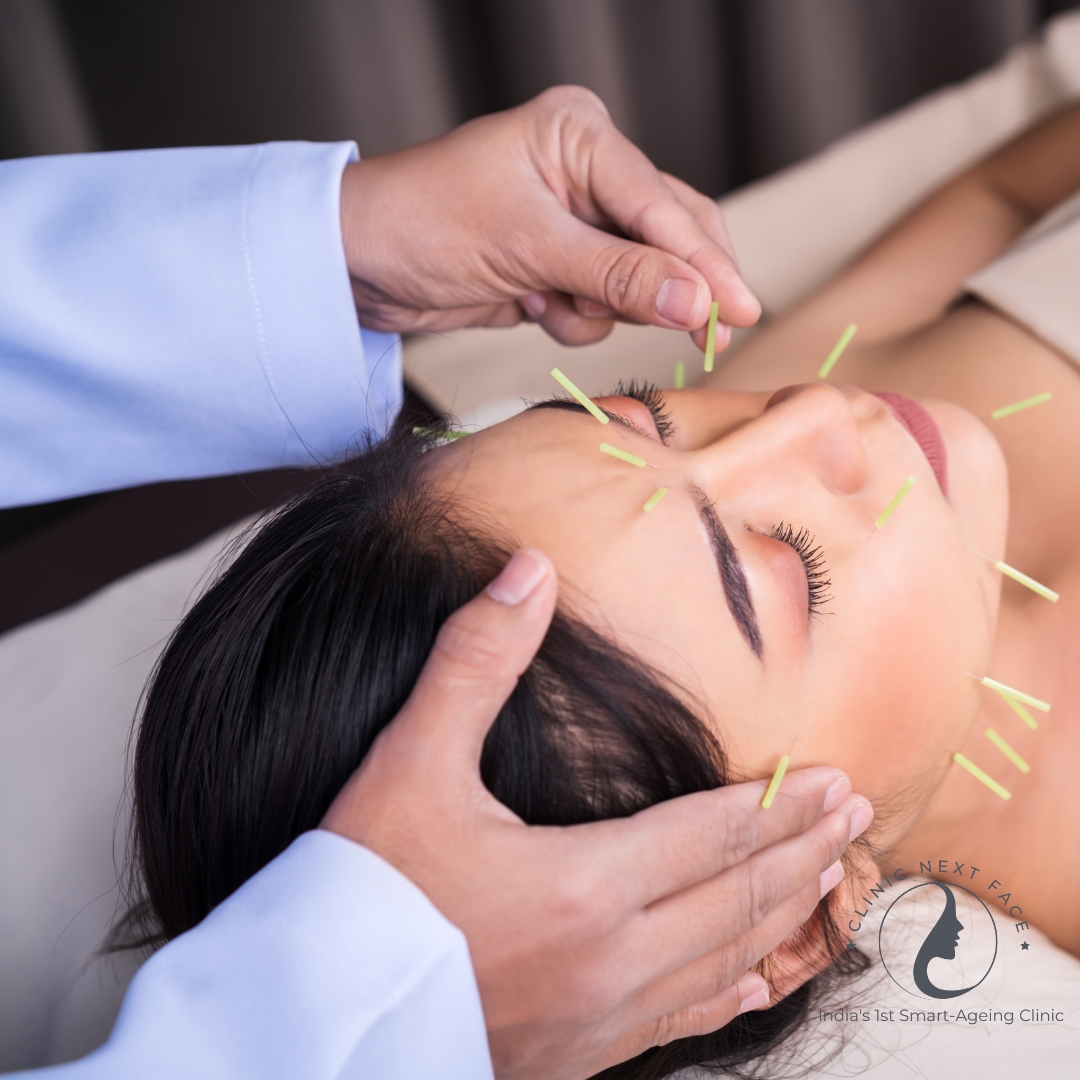 Platelet Rich Fibrin (PRF) is a safe and natural skin treatment, which focuses on natural healing properties in the body. PRF is a technology that uses the body's natural and potent healing proteins and concentrated growth factors to rejuvenate skin. We extract a high concentration of natural growth factors in the blood and use it to enhance your facial aesthetics. PRF treatment can cure skin issues, such as age spots, liver spots, forehead wrinkles, facial wrinkles, tear troughs, crow's feet, frown lines, dark under-eye hollows, thinning lips, nasolabial folds, marionette lines, sagging neck, and jowls. 
Hydra Facial 
Hydra facial is a skin treatment, sometimes called hydradermabrasion, which includes microdermabrasion-like exfoliation and hydrating serums. Hydra facial has three steps, including deep cleaning, exfoliation, and hydration. This facial can treat various skin conditions, such as wrinkles, acne, and dryness. The non-invasive procedure delivers exceptional results because of the mechanical application on your skin to extensively clean and exfoliate and custom serums suited to your skin type. The deep exfoliation cleans pores, removes debris, and helps the serum to deeply penetrate your skin. Hydra facials can improve the overall tone and texture of your skin. 
Chemical peels are cosmetic procedures done on the face, neck, and hands to enhance the look and feel of your skin. We apply chemical solutions on the body part to be treated that exfoliate and peel off the skin. Once the peeling occurs, the underneath skin looks smoother and has fewer wrinkles and damage. You may get chemical peels at our clinic to remove wrinkles, fine lines, sun damage, acne scars, hyperpigmentation, melasma, redness, or uneven skin tone. The cells get damaged once they reach a certain temperature in the targeted area. 
High-Intensity Focused Ultrasound (HIFU) is a trending skin rejuvenation treatment that is a painless and noninvasive replacement to lift your face. We apply focused ultrasound energy to heat the tissue quickly. The damage stimulates the cells to produce more collagen, a protein that adds structure to your skin. The increased collagen gives you firmer and tighter skin with fewer wrinkles. As the high-frequency ultrasound beams are focused on a specific tissue under the skin's surface, the upper layers and adjacent tissue don't get damaged. HIFU works perfectly on 30+ old people with mild to medium skin laxity. 
Q-Switch Laser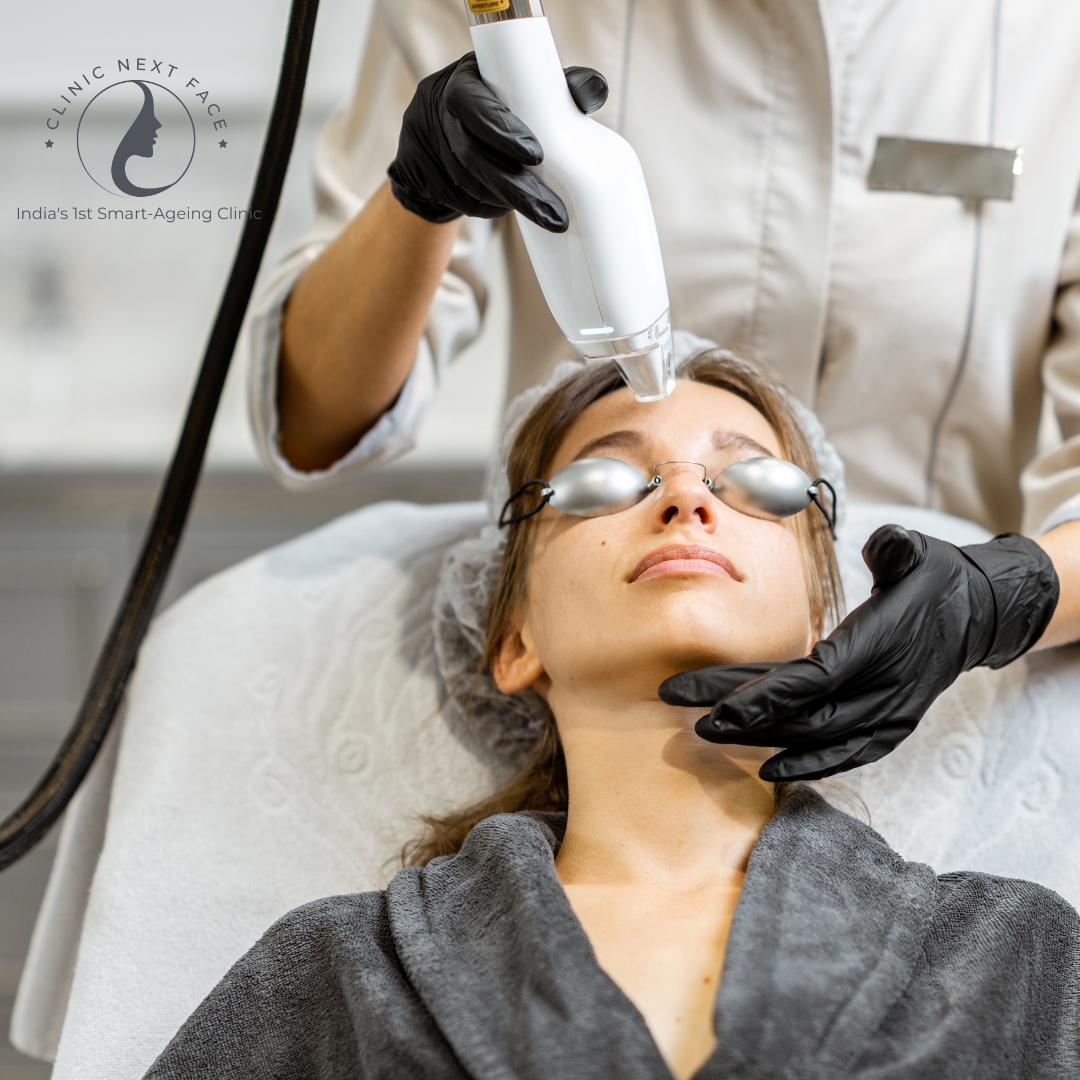 Q-switch laser is an advanced technology to treat hyperpigmentation and uneven skin tone. Q-switch laser emits an invisible beam of light to target the melanin or brown pigment in the dark spots without affecting the surrounding skin. The pigment absorbs the laser effects and fragments the tissues that even and smoothen your complexion. The laser gets into the deeper areas where peels and products can't reach. You may require six to eight sessions to get the desired results. 
Medi-facial is a new-age treatment, which is a combination of medicine and facial. This medicated facial treatment contains antioxidants, minerals, and vitamins that are good for skin health. It nourishes and gives an instant glow to your skin, which diminishes the aging signs without any hazardous side effects. It replenishes your skin from the inside and suits all types of skin. Medi-facial can be a great choice if you want even your sensitive skin to look bright and flawless yet stay safe from any side effects. 
Want to do skin rejuvenation treatment at Clinic Next Face? Schedule a free face-to-face or online consultation with our doctors. Fill out the form below to book a slot to consult our expert dermatologists. We also offer free face and hair consultations. 
I was looking for a safe place for Lip Fillers in Bangalore, and I found CNF. My experience at Clinic Next Face has been one of the most cherished experiences of my life. Dr. Praharsh is an amazing doctor. I felt I was in the safest hands. The team is full of positivity and an extremely loving team.
I had been to Clinic Next Face last week and consulted Dr. Praharsh for an eyebrow lift procedure. I loved the way they explained and treated me very well. And I started seeing the results in a week. Thank you, clinic next face.
I visited Dr. Praharsh for an acne issue that I have been facing for quite some time. I was very happy with the results and more so with the doctor's patience to answer each of my questions patiently. I liked the fact that he would not push medication unnecessarily and instead give me the time to research and come back and see if I wanted to go ahead with the treatment. I would definitely recommend this aesthetic clinic as a place I trust.
"One of the best skin rejuvenation clinic in JP Nagar, Bangalore. They not only concentrate on your face but your lifestyle and nutrition-related problems as well. My skin and hair is so much better now thanks to Doctor and Vani."