PRP therapy is a popular hair loss treatment, but it may not work for everyone.
Reasons for PRP treatment not working include a low concentration of platelets, excessively high platelet concentration, advanced stage of hair fall, improper technique of delivery, and excessive smoking.
Platelet Rich Fibrin (PRF) is considered more potent than PRP, offering additional benefits such as stem cells for hair regrowth.
Choosing PRF over PRP can result in no downtime, no general anesthesia requirement, and thicker, healthier, and stronger new hair growth.
Clinic Next Face (CNF) is a trusted beauty clinic in Bangalore offering PRF hair loss treatment and other medical-aesthetic services.
PRP has become a popular hair loss treatment because of its effectiveness. According to certain studies, PRP therapy is more effective than placebo, while other studies didn't point to any difference between them. Unfortunately, this treatment didn't work for many and they couldn't see any improvement in hair loss condition. 
But what can be the reasons why PRP treatment may not work for your hair loss? Find the reasons below: 
Less Concentration of Platelets 
The effectiveness of stimulating tissue regeneration depends on the concentration of platelets in the plasma. Thus, a higher concentration of platelets shows more effectiveness. Checking the concentration of platelets is crucial before PRP injections as you won't get the results if it's too less. During injection and when concentrating the platelets, it should be 5 times concentrated. For instance, if the normal platelet concentration is 2, 00,000/mo, it should be up to 5 times concentrated, i.e., 10, 00,000/ml after centrifuge. 
Extremely High Platelet Concentration 
The super concentration of platelets is useless and harmful. They can isolate platelets and apply them in various concentrations on tendon cells to check if higher concentrations benefitted. Platelets alone can't help cell survival. PRP is rich in platelets and contains a small portion of RBC, WBC, and plasma serum that have the nutrients that cells require to survive. 
Taking the concentration above 1,000,000 platelets/unit may not give therapeutic benefits and can leave a detrimental effect. Choosing the right PRP kit is crucial to deliver the desired results. The kit has to produce PRP in the ideal concentration so it works every single time injected into the patient's body. 
Advanced Stage of Hairfall 
The results of PRP treatment depend on the stage of hair loss. It may be less effective if your hair fall is in an advanced stage. When your hair fall is in earlier stages, you should take PRP injections to get better results.
Technique of Delivery 
The technique of delivery affects the results of PRP therapy. The treatment may have involved improper way of delivery, the amount of used plasma, and frequency. The use of improper equipment doesn't deliver the desired results. 
Excessive Smoking 
PRP treatment may not control your hair fall if you smoke a lot. So, quit smoking before you opt for this treatment. Otherwise, your hair loss may not be controlled if you take PRP injections as a heavy smoker.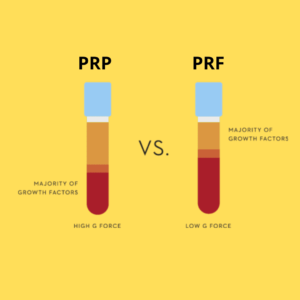 Why Choose PRF Instead of PRP? 
Platelet Rich Fibrin (PRF)  is much more potent than PRP. Unlike PRF, PRP includes a centrifugation process that distinguishes platelets from the rest of the blood elements before it is again injected inside your body.
Both have platelets but PRF offers certain things that PRP doesn't, including stem cells, which regrow hair in people suffering from hair loss. 
Here are the key reasons to choose PRF instead of PRP:
No massive downtime as people can resume everyday activities immediately
No general anesthesia requirement
Thicker, healthier, and stronger new hair growth
Get in Touch With Us for PRF Hair Loss Treatment
CNF is India's 1st anti-aging clinic. We are one of the best beauty clinics in Bangalore. Clinic Next Face is a chain of top medical-aesthetic clinics that focus on revolutionizing the concept of aesthetic dermatology. Our expert dermatologists and trichologists are well-trained to deliver exceptional results for all your skin and hair concerns.
Checkout: About PRF For Hair Loss
We have:
✓ Bangalore's best expert injectors and cosmetic surgeons.
✓ Transformed 10k+ Faces.
✓ Most trusted clinics with strong ethical values
✓ Delivered world-class medical treatments with clinical expertise
✓ Trained Over 1K+ Doctors.
Book a consultation with our experts today for PRF hair loss treatment. 
I was looking for a safe place for Lip Fillers in Bangalore, and I found CNF. My experience at Clinic Next Face has been one of the most cherished experiences of my life. Dr. Praharsh is an amazing doctor. I felt I was in the safest hands. The team is full of positivity and an extremely loving team.
I had been to Clinic Next Face last week and consulted Dr. Praharsh for an eyebrow lift procedure. I loved the way they explained and treated me very well. And I started seeing the results in a week. Thank you, clinic next face.
I visited Dr. Praharsh for an acne issue that I have been facing for quite some time. I was very happy with the results and more so with the doctor's patience to answer each of my questions patiently. I liked the fact that he would not push medication unnecessarily and instead give me the time to research and come back and see if I wanted to go ahead with the treatment. I would definitely recommend this aesthetic clinic as a place I trust.
"One of the best aesthetic clinics in Bangalore. They not only concentrate on your face but your lifestyle and nutrition-related problems as well. My skin and hair is so much better now thanks to Doctor and Vani."
"Went there for under-eye fillers and dark circle removal. One of the best experts on this. Amazing advice and very good consultation style. The doctor is a genuine when it comes facial aesthetics. Best aesthetic clinic in bangalore."