Clinic Next Face (CNF) is a renowned skin specialist in Bangalore.
Dr. Praharsh Devraj, an experienced dermatologist with numerous accolades, leads Clinic Next Face.
They offer various skin treatments including acne reduction, scar removal, birthmark removal, dark circles treatment, skin tightening, and stretch marks reduction.
Clinic Next Face provides detailed consultations and personalized treatment plans.
They prioritize customization and offer appointments for extensive consultations.
Your skin is one of the most sensitive organs in your body. As you grow older, your skin may develop various issues. Thus, you need to take extra care of your skin and opt for the right treatment as and when required. You should never hesitate to consult a skin specialist if the issues are consistent. Clinic Next Face (CNF) is the best skin specialist in Bangalore whom you can always consult to get rid of the imperfections on your skin.
So what makes CNF the best skin specialist in Bangalore? Here are the key reasons: 
The Commendable Credentials 
Credentials are always when it comes to consulting a skin specialist. A doctor with a high medical degree can start practicing dermatology, but certified dermatologists have dealt with critical cases for years. Our Dr. Praharsh Devraj is a veteran dermatologist with decades of skincare experience who has earned many awards and recognition for his expertise in dermatology. 
He is the best injectable expert in India who has treated 10K+ patients across Bangalore and trained 100+ doctors in new injectable technology. Dr.Prahatsh Devraj's work earned him appreciation from the thousands of patients he dealt with. Our team of dermatologists works closely with him and follows his instructions when doing treatments. 
Various Types of Skin Treatment 
At Clinic Next Face, you can opt for various skin treatments. Find below the types of treatment you can avail of at our clinic: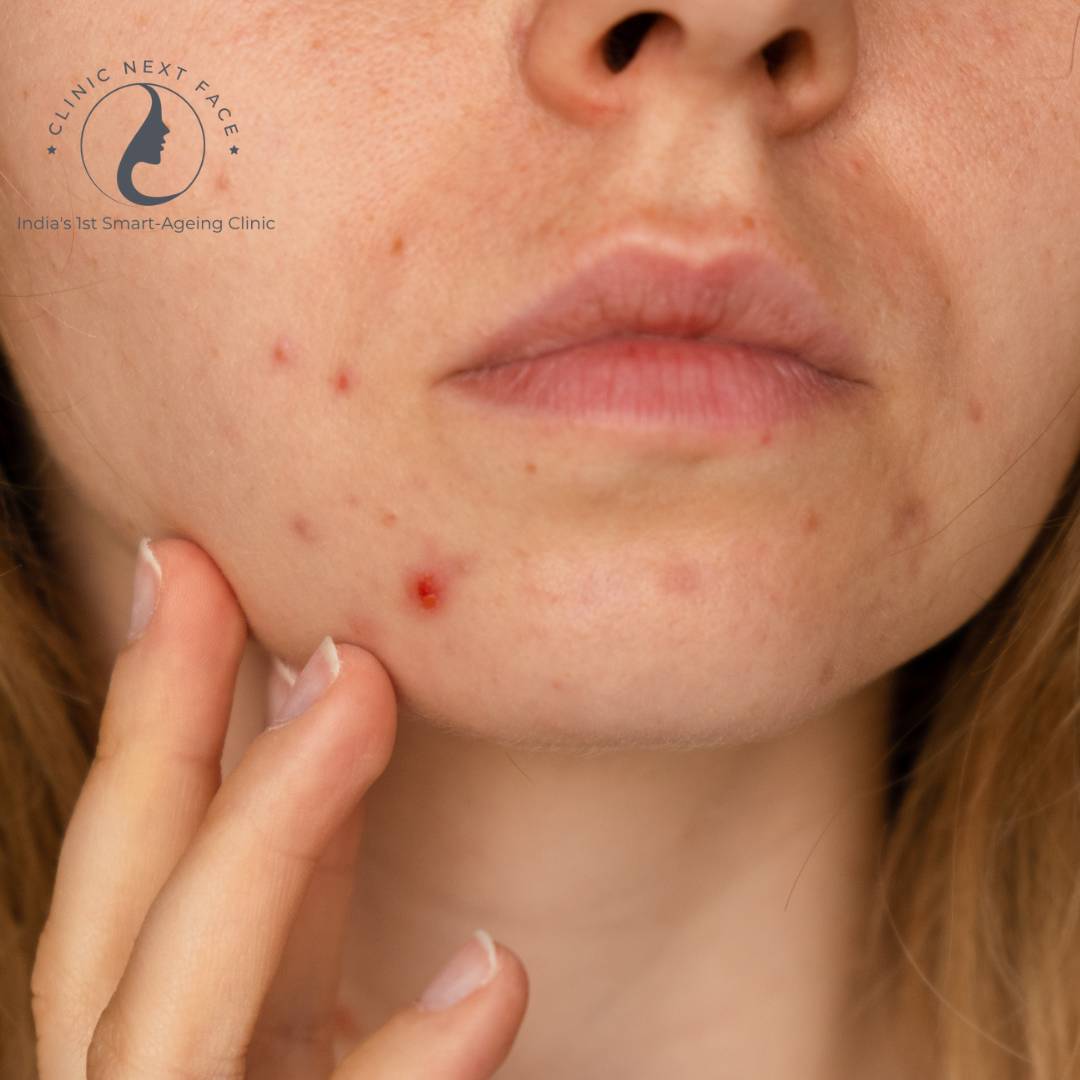 Acne Vulgaris is a common form of acne in teenagers and young adults caused due to the accumulation of oil (sebaceous) glands in your skin which get inflamed and clogged. Acne usually develops when the oil glands get active around puberty and are stimulated by male hormones produced in the adrenal glands of both girls and boys. Acne Vulgaris is a medical term for breakouts, zits, or pimples. 
We offer a wide variety of advanced acne scar removal treatments. They help significantly diminish all kinds of acne scars that may appear on your face and other body parts, chest, upper arms, and upper back.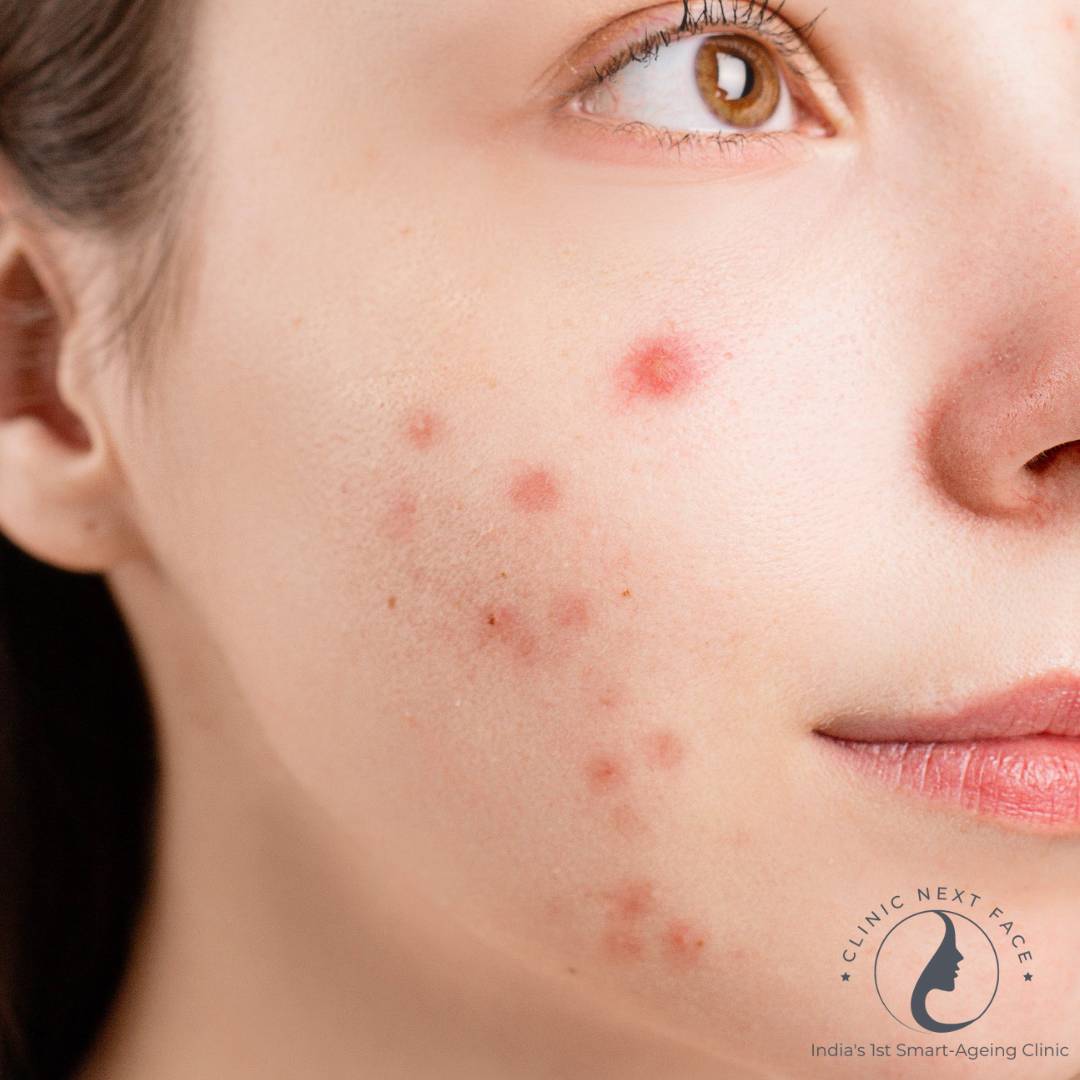 Clinic Next Face offers advanced professional acne treatment. Our solutions can treat all types and severities of acne, which ensure long-term satisfaction. Our medical team offers personalized care for all skin types to control mild, moderate, and intense breakouts and prevent scar formation.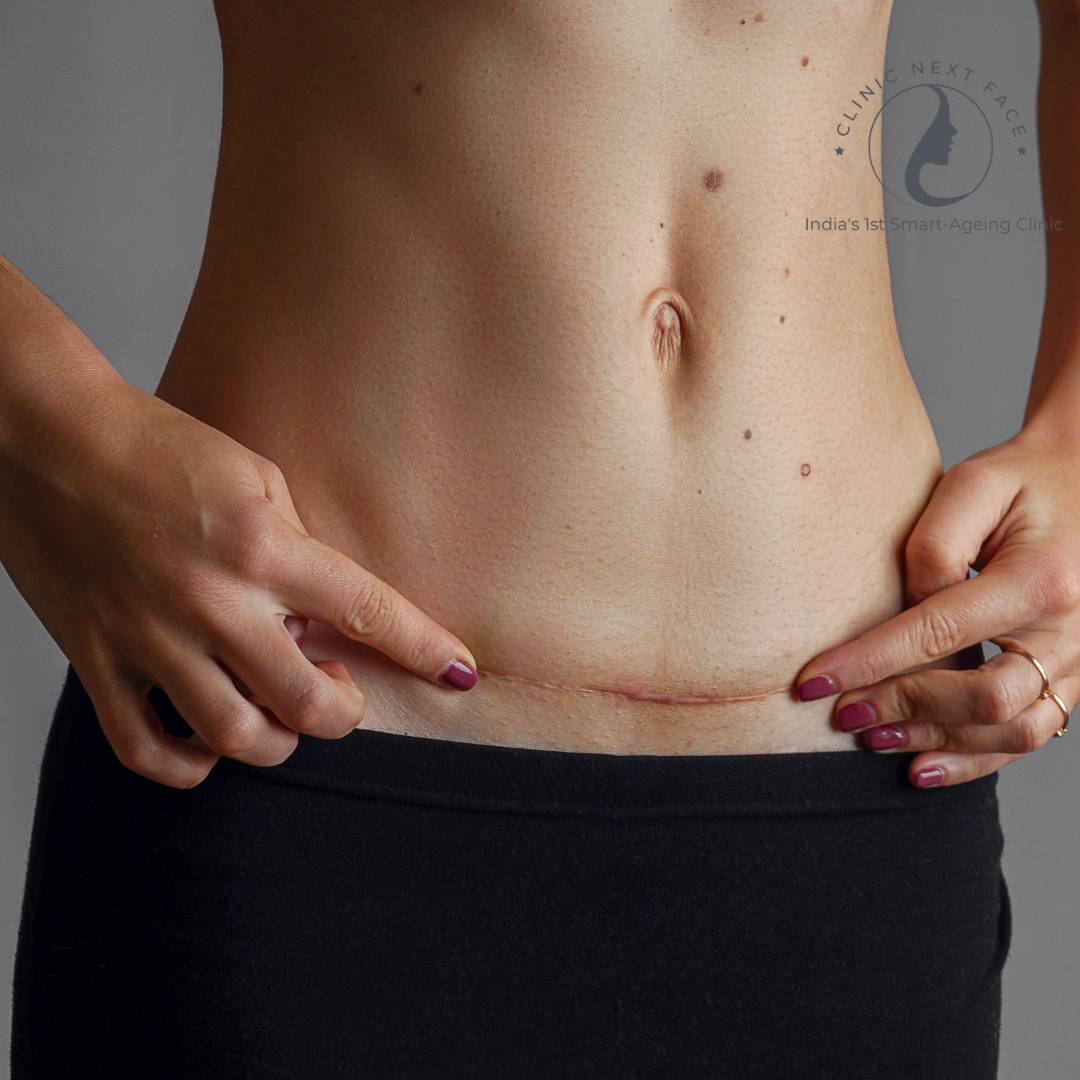 Once you consult our dermatologist, we can personalize your treatment depending on your skin and scar type, size, and the criticality of the condition. We offer advanced scar removal treatment for all grades (mild, moderate, and severe) and types of acne scars below.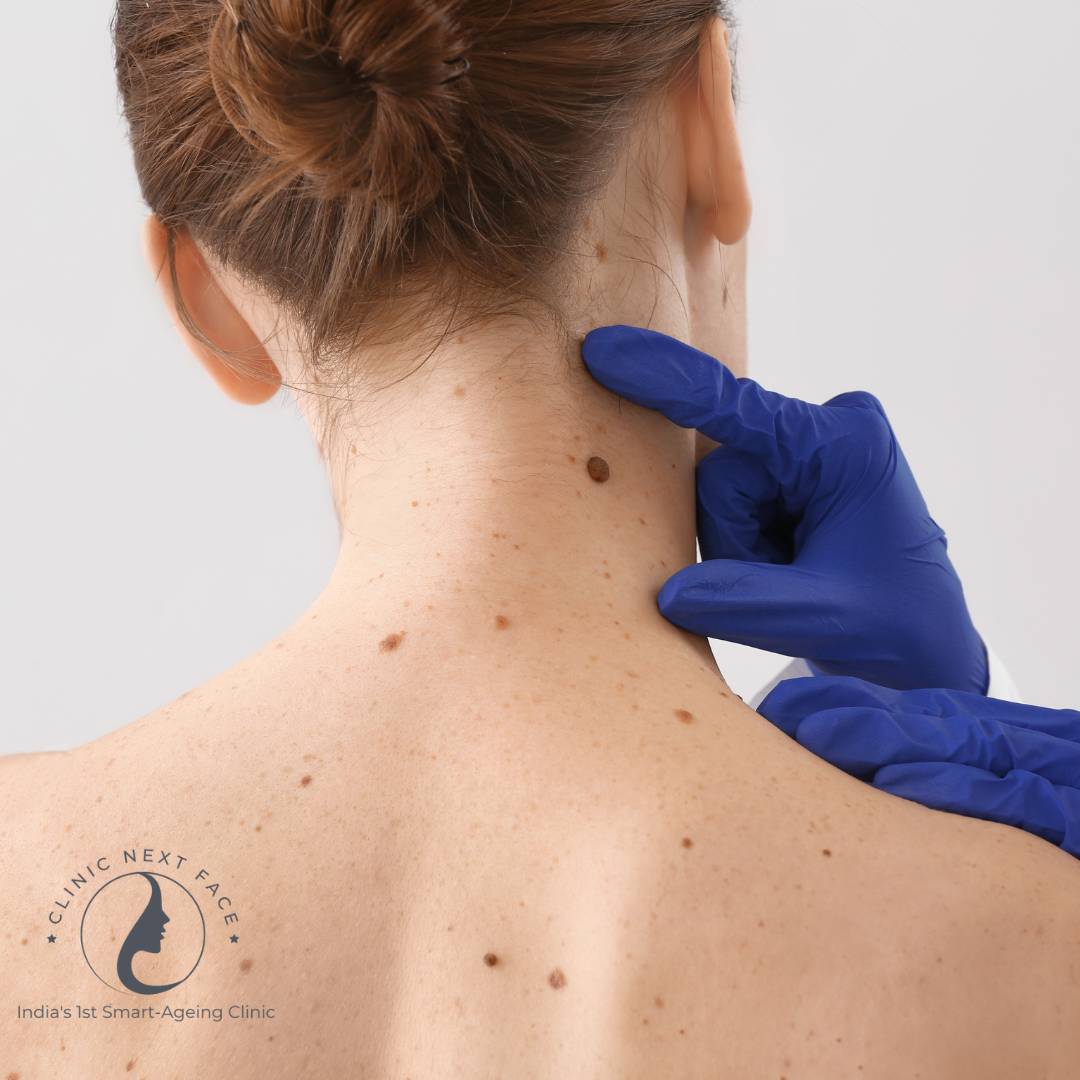 A dermatologist can remove birthmarks. Usually, the treatment method for removing a particular birthmark depends on the type, size, severity, location and more. The most common types of laser used for reducing birthmarks are:
Q-switched Nd:YAG Lasers for pigmented birthmarks
Pulsed dye laser for vascular birthmarks
Dark circles are the discoloration or darkening of the skin surrounding or below your eyes. The discolored or darkened skin looks dark brown, blue, and black. The look of pigmented skin is also called Periorbital dark circles or Infraorbital Discoloration, Infraorbital Darkening, Periorbital Melanosis, and Periorbital Hyperpigmentation (POH).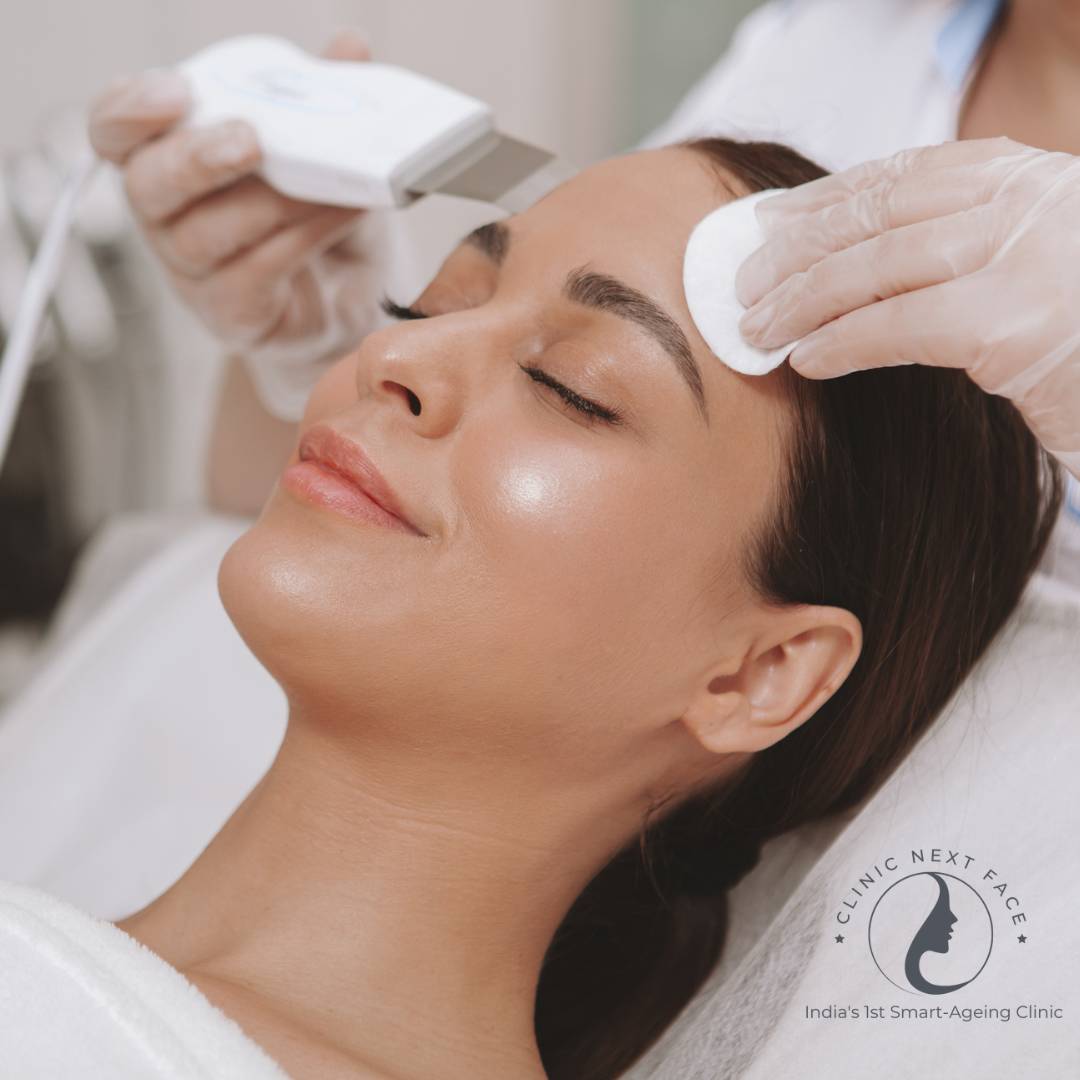 At Clinic Next Face, the skilled dermatologist personalizes a skin-tightening treatment plan suited to your condition. You may need the modalities below as a solo or combo treatment depending on your skin requirements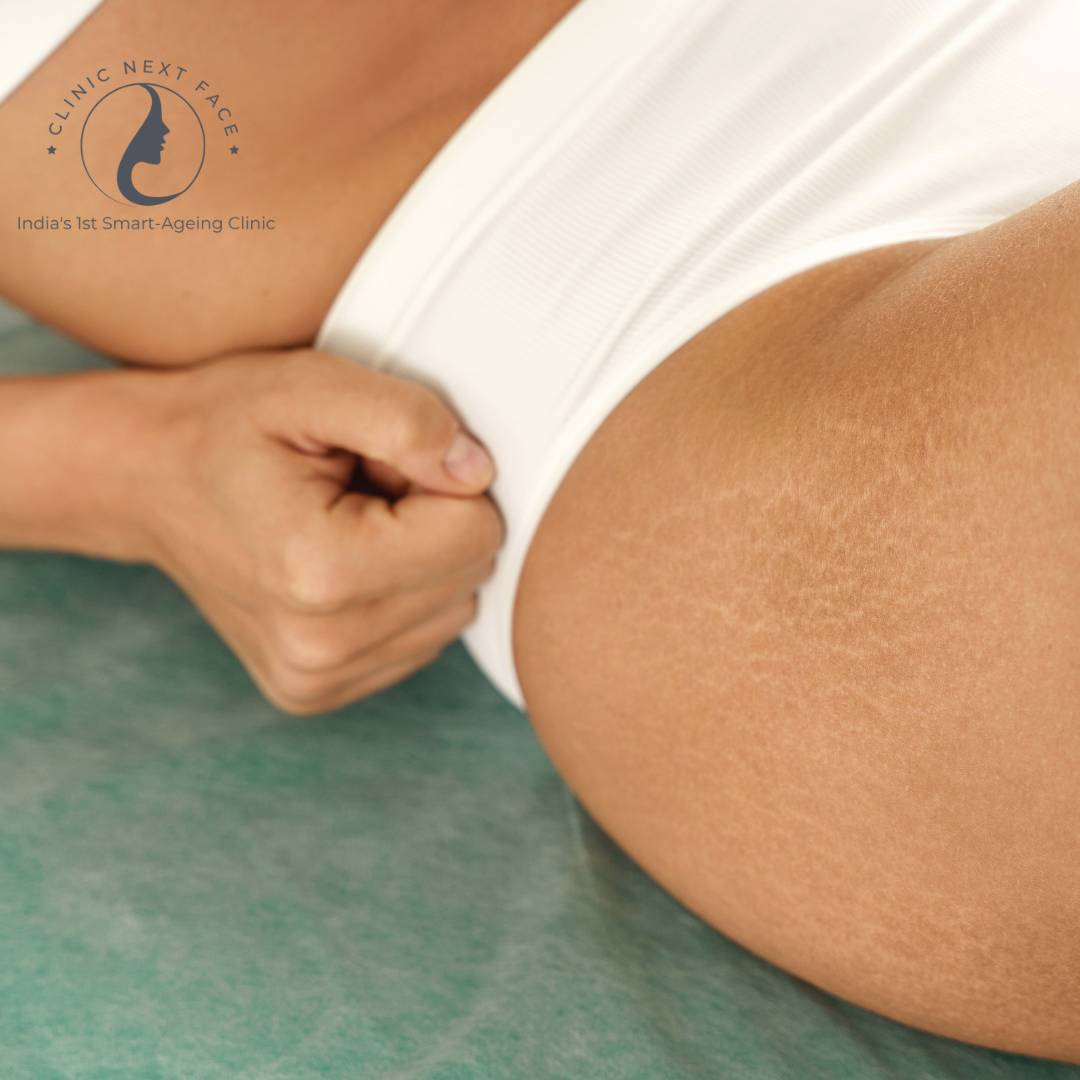 You can always visit our clinic to reduce acne and pimples, remove scars, birthmarks, dark circles, and stretch marks, and tighten your saggy skin. Our dermatologists always suggest the right treatment suited to your skin conditions. Once you opt for our treatment, your skin will glow and look flawless. 
Appointment Booking and Detailed Consultation 
Extensive consultation is crucial before undergoing a skin treatment. It takes time but can always work to your benefit. Thus, we allow you to book an appointment in your preferred slot so our skilled dermatologists can keep themselves available for consultation.  
We discuss the issues that your skin may be experiencing for a long time. Our dermatologists check the condition of your skin to identify the real causes behind the issues. With our consultation, you can always go for the right treatment that will deliver the desired results.  
Customization 
Even though we offer a variety of treatments, a specific option may not work to cure all your skin issues. In such cases, we customize the right treatment suited to your skin conditions. 
So, if you can't pick a suitable treatment from our list of treatments, visit our clinic. We can personalize the best skin treatment. 
The reasons above show what makes CNF the best skin specialist in Bangalore. If you want to get relief from skin issues that are bothering you a lot, book an appointment today! 
Call us at +91-9111159191 to book a free consultation or visit us at our JP Nagar Clinic. 
I was looking for a safe place for Lip Fillers in Bangalore, and I found CNF. My experience at Clinic Next Face has been one of the most cherished experiences of my life. Dr. Praharsh is an amazing doctor. I felt I was in the safest hands. The team is full of positivity and an extremely loving team.
I had been to Clinic Next Face last week and consulted Dr. Praharsh for an eyebrow lift procedure. I loved the way they explained and treated me very well. And I started seeing the results in a week. Thank you, clinic next face.
I visited Dr. Praharsh for an acne issue that I have been facing for quite some time. I was very happy with the results and more so with the doctor's patience to answer each of my questions patiently. I liked the fact that he would not push medication unnecessarily and instead give me the time to research and come back and see if I wanted to go ahead with the treatment. I would definitely recommend this aesthetic clinic as a place I trust.
"One of the best aesthetic clinics in Bangalore. They not only concentrate on your face but your lifestyle and nutrition-related problems as well. My skin and hair is so much better now thanks to Doctor and Vani."
"Went there for under-eye fillers and dark circle removal. One of the best experts on this. Amazing advice and very good consultation style. The doctor is a genuine when it comes facial aesthetics. Best aesthetic clinic in bangalore."
Frequently Asked Questions on Skin Specialist, JP Nagar.